In May 2021, the CTBTO Youth Group (CYG) Task Force launched the Citizen Journalism Academy to help CTBTO Youth Group (CYG) members further their communication skills and teach them how to effectively use various communications and media tools to promote a world free of nuclear testing.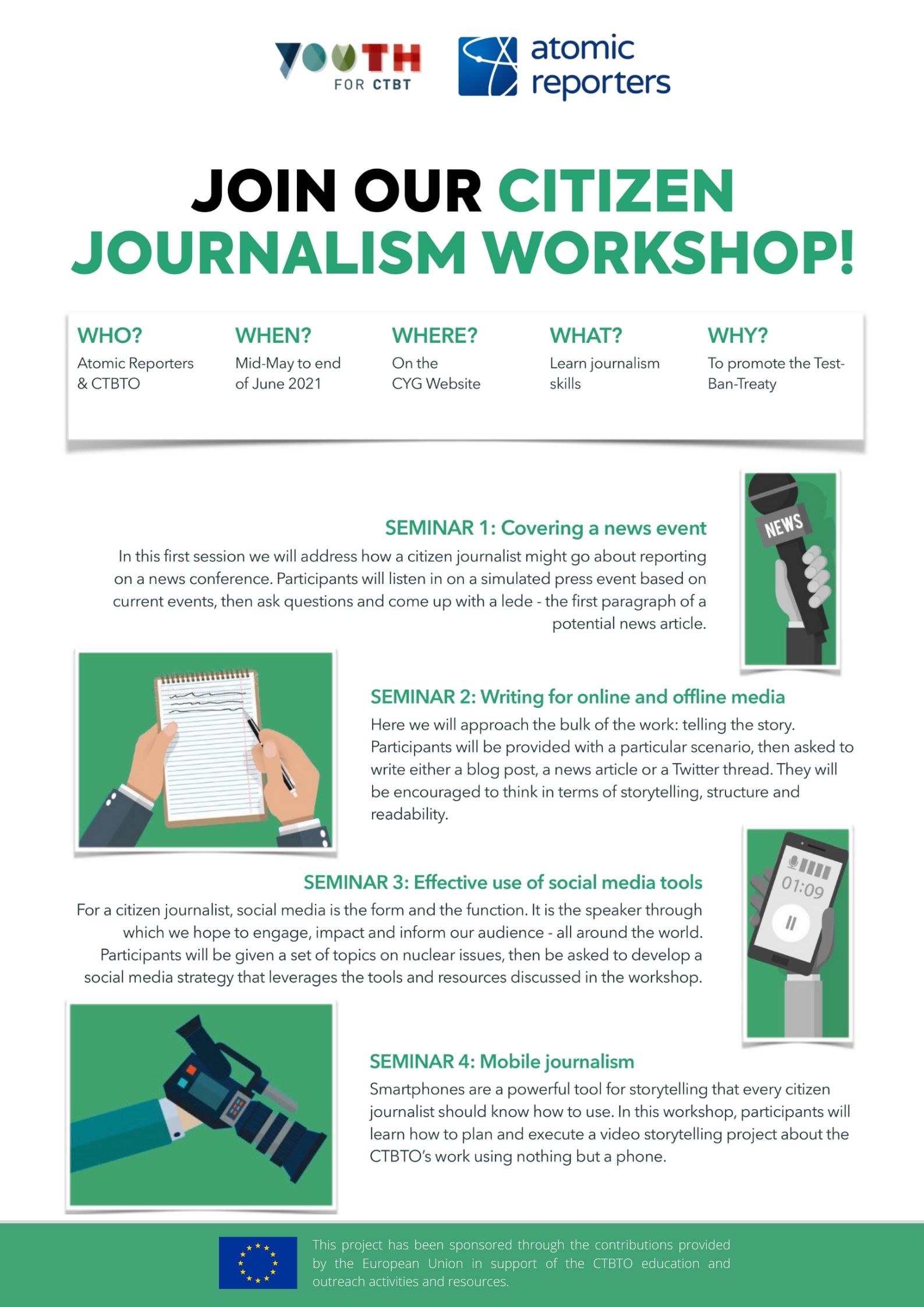 Professional communication trainers from Atomic Reporters provided masterclasses, trainings and mentoring to 80 CYG applicants using both live web sessions and asynchronous learning tools.
Participants learned how to:
conduct effective interviews with various stakeholders - diplomats, technical experts, other young people – and how to prepare, research, and pose appropriate questions;
develop professional products to post on Facebook, Twitter, YouTube, and others, using Canva and other mobile journalism techniques to record audio and create images;
optimise social media use for message delivery;
Engagement by CYG members has been enthusiastic with keen interest in the tips, guidelines, recommendations and experience shared by the trainers, Jorge Dastis, Alex Nitzsche and Peter Rickwood, based on their knowledge from working as journalists. Nitzsche and Rickwood also worked as press officers in the UN system.
During the seminars, there were also two speakers: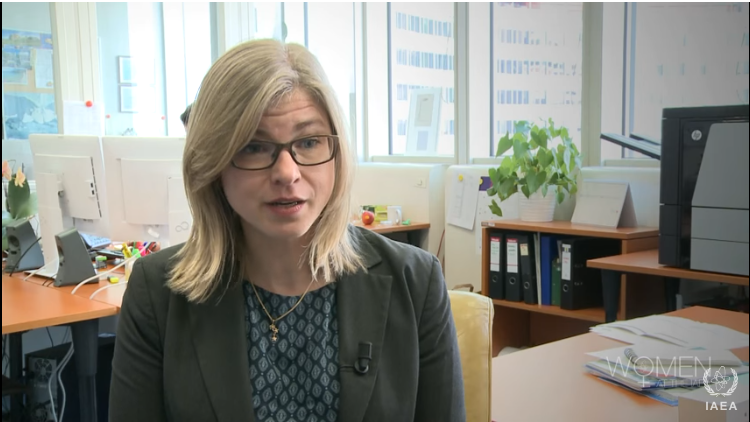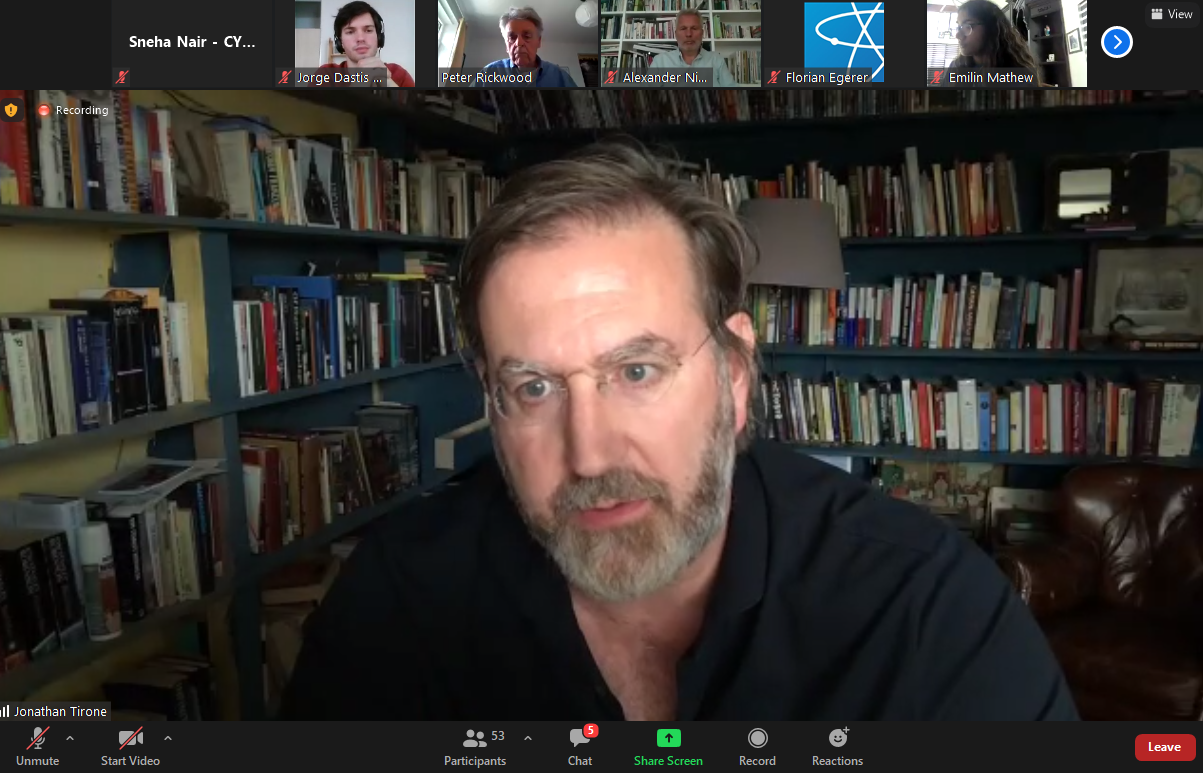 Participants who successfully completed the four-week training course were awarded a certificate for their accomplishment.
---
Fellow Fireside chats: an SnT Lecture Series on citizen journalism
Furthermore, 25 members were selected as CYG Citizen Journalism Fellows to work with the Atomic Reporters trainers and provide media coverage of the CTBTO Science and Technology 2021 (SnT2021). They had the opportunity to apply the skills they gained from the Academy to report on the SnT2021 virtual sessions, meet high level participants and promote visibility on official CTBTO channels.
For Amateur citizen journalists, professional experience and advice is critical in learning how to provide media coverage. This informal virtual lecture series will consist of 45-minute daily Webex seminars during the CTBT: Science and Technology Conference 2021 (SnT). The 25 Fellows selected from the Citizen Journalism Academy will engage with communications experts from a diverse range of backgrounds and draw from their experience as communicators to learn how to report on the SnT.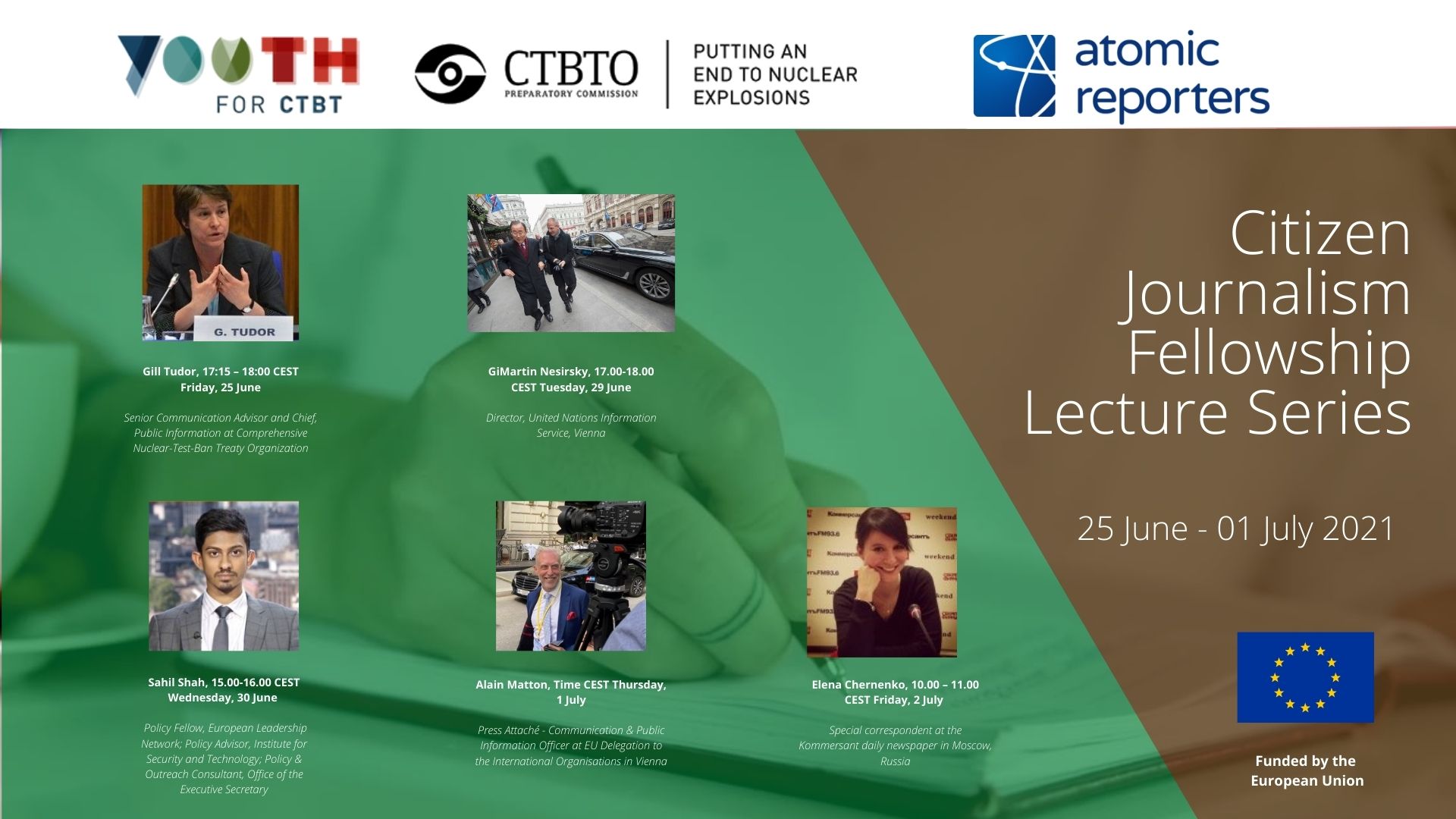 Gill Tudor
Senior Communication Advisor and Chief, Public Information at Comprehensive Nuclear-Test-Ban Treaty Organization
Martin Nesirsky
Director, United Nations Information Service, Vienna
Sahil Shah
Policy Fellow, European Leadership Network; Policy Advisor, Institute for Security and Technology; Policy & Outreach Consultant, Office of the Executive Secretary
Alain Matton
Press Attaché - Communication & Public Information Officer at EU Delegation to the International Organisations in Vienna
Elena Chernenko
Special correspondent at the Kommersant daily newspaper in Moscow, Russia
---
Some of the materials produced from the CJA Fellows:
VIDEO - Martin Kalinowski and Jonathan Baré about scientific posters at the CTBTO SnT 2021 – Rachel Kan
VIDEO - Citizen journalist Virginia Bertuzzi interviews Simonetta di Pippo – Virginia Bertuzzi
VIDEO - 10 questions to Simonetta di Pippo, Director of the UN Office for Outer Space Affairs – Virgina bertuzzi
VIDEO- Ilya Kursenko interviews Maria Chepurina, CTBTO External Relations Officer and CYG coordinator- Ilya Kursenko
VIDEO - Interview with Zainab Azim, Virgin Galactic Future Astronaut and founder of GIVE – Virginia Bertuzzi
VIDEO - Scientists Nikita Pinto and Tracey Rogers on facing underrepresentation as women in STEM – Rachel Kan
VIDEO - Interview with researcher Nikita Pinto on using CTBTO's monitoring system to track whale populations – Rachel Kan
VIDEO - Interview with researcher Stephen Herzog about the role of Public Opinion in banning nuclear tests - Yun-Tzu Lin and Emilin Matthew
VIDEO - Interview with researcher Peter Labak on seismic monitoring and the role of the CTBTO – Armine Gevorgyan
VIDEO - Kseniia Pirnavskaia and Cris Cruz from the CYG Youth Group interview Sanam Shantyaei - Kseniia Pirnavskaia and Cris Cruz
In the end, the CTBTO Youth Group Task Force together with the Atomic Reporters selected six best fellows that will be invited and funded to participate at an in-person events of the CTBTO in Vienna:
Cristopher Cruz
Kseniia Pirnavskaia
Emilin Mathew
Yun-Tzu (Allison) Lin
Rachel Kan
Virginia Bertuzzi
---
The CTBTO would like to highlight the contributions provided by the European Union in support of the CTBTO education and outreach activities and resources. Through its substantial contributions, the European Union demonstrates a shared vision with the CTBTO to engage, train and educate the next generation of CTBT experts.