The United Nations Office of the Secretary-General's Envoy on Youth launched the first-ever edition of the Youth2030 Progress Report 2021.  
The Report is an update of the activities and implementation of the United Nations' (UN) system-wide Youth Strategy, Youth2030. The report provides insights on the status of implementation of Youth2030 across the UN system. It outlines the global governance and coordination structures that have been established to ensure coherent system-wide action, highlights how the UN is responding to the needs of youth in the COVID crisis and how it is working with Governments and young people to realize the SDGs.  
With respect to the work of the CTBTO Youth Group (CYG), the report emphasizes the work of UN entities in advocating, communicating and mobilising stakeholders to act for and with youth to achieve the SDGs. There is specific mention to work on disarmament, conflict prevention, youth-led accountability and civic engagement ranging from advocacy campaigns, to calls to action, to articles.  
The work of the CYG over the last five years has embodied the Youth2030 agenda, in particular for Youth, Peace and Security (YPS). Projects like Building Bridges create collaborative, youth-led initiatives to achieve the SDGs. The CYG engages emerging voices in nuclear non-proliferation, the CTBT, and YPS agenda through awareness-raising campaigns and creation of educational resources. The group even provides a platform for youth-led knowledge production with the CYG newsroom.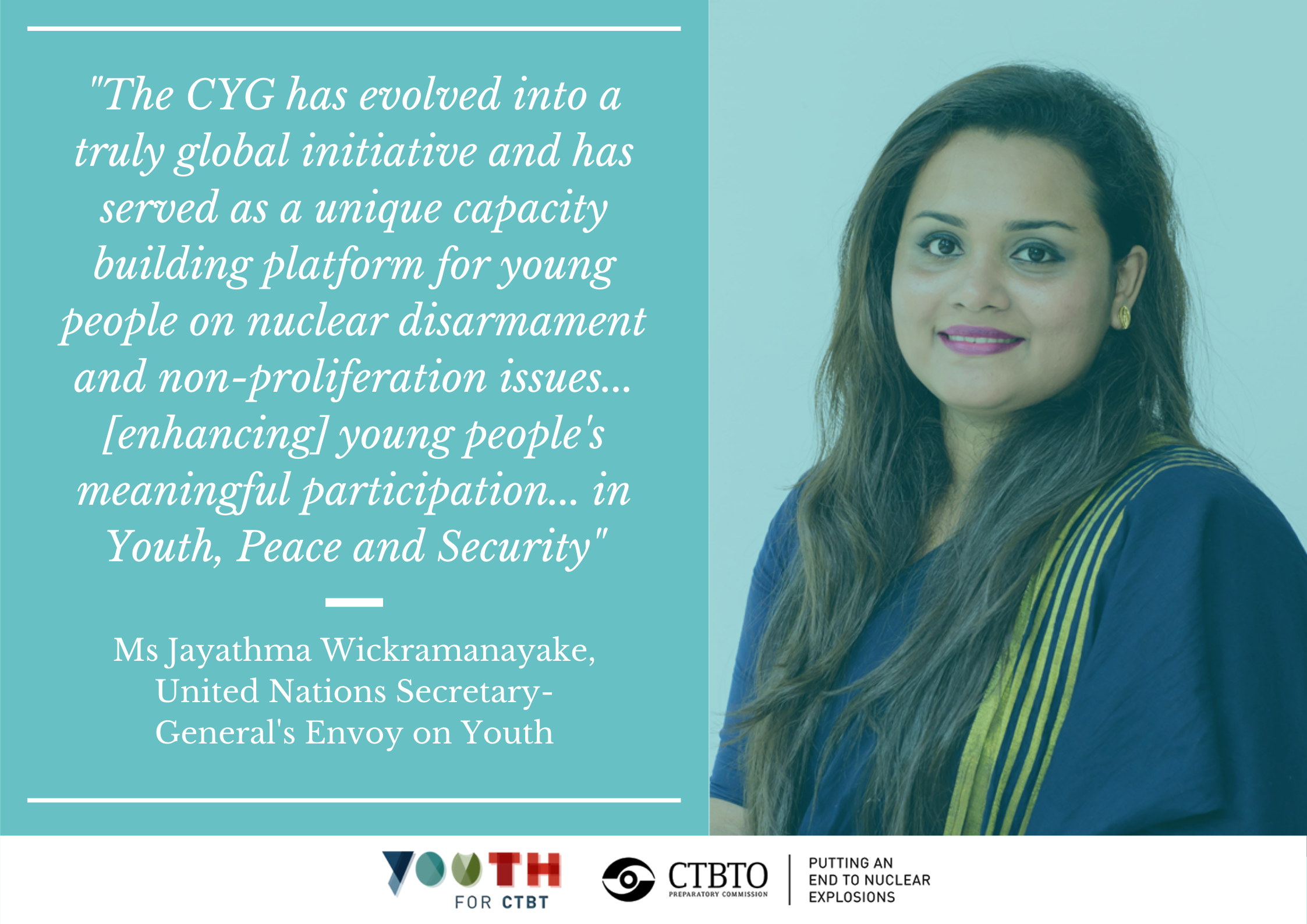 As the UN Secretary-General's Envoy on Youth, Ms Jayathma Wickramanayake, said during the 18 March 2021 session of Building Bridges, "the CYG has evolved into a truly global initiative and has served as a unique capacity building platform for young people on nuclear disarmament and non-proliferation issues... [enhancing] young people's meaningful participation... in Youth, Peace and Security."  
Access the full UN Youth2030 Progress Report here.